Handmade gemstone rosaries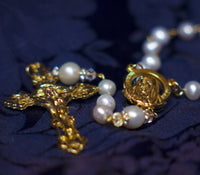 Why spend money on a quality rosary?
Beautiful things have a way of lifting our minds and hearts toward the transcendent.
Think of the most beautiful church, museum, or park you've been in. Any place that took your breath away. How did you feel? Just as the beauty of these places draws us heavenward, a beautiful rosary can help us lift our hearts to God in prayer.
As we see in the story of Cain and Abel, God is pleased when we offer Him our absolute best. If we think of our prayers as gifts to God, then it only makes sense that we offer them in the best and most beautiful way we can. A beautiful, high-quality rosary is the perfect way to start. You can even pass it down as a family heirloom.